FIRM NEWS
DGC's Annual A&E Summit – June 13th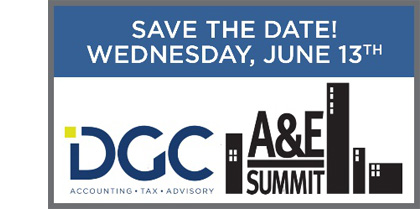 Join us at the Westin Copley Hotel in Boston from 7:30-10:30am. A post-summit session focusing on tax reform will be held from 10:30-12:00pm.


LEARN MORE AND REGISTER

DGC Named to Accounting Today's "Firms
To Watch" List
After another year of strong growth, Accounting Today
once again ranked DGC among the top ten firms in
New England based on revenue.


READ MORE
Accounting and Business Advisory Services
Practice Launched
DGC now has a dedicated team that provides accounting,
financial reporting, bookkeeping and interim CFO services.


LEARN MORE
Chad DaGraca to Speak at Boston Society
of Architects Event and VT Architecture &
Construction Expo
Chad will speak about project management at the Boston
Society of Architects, Finance Wizards on May 8th.


READ MORE
Chad will discuss ownership transition and succession planning
at the VT Architecture & Construction Expo on May 10th.


READ MORE
Dave Sullivan to Speak at AEC Mergers &
Acquisitions Symposium on June 14
Dave will appear at Morrissey Goodale's 2018 Western States
M&A Symposium in San Francisco.


READ MORE
Beth da Silva to Speak at LeClairRyan Seminar
on June 21st
The event is entitled, "2018 Accountant Liability Seminar:
Knowing the Rules, Playing to Win."


READ MORE
DGC Ranks Among Top 10 Regional Firms in
BBJ's Largest Accounting Firms List
We are proud to also rank 14th among the 50 national and
regional firms on the list.


READ MORE
Online Credit Card Payments Now Accepted
DGC is happy to offer our clients this convenient method of payment.


READ MORE